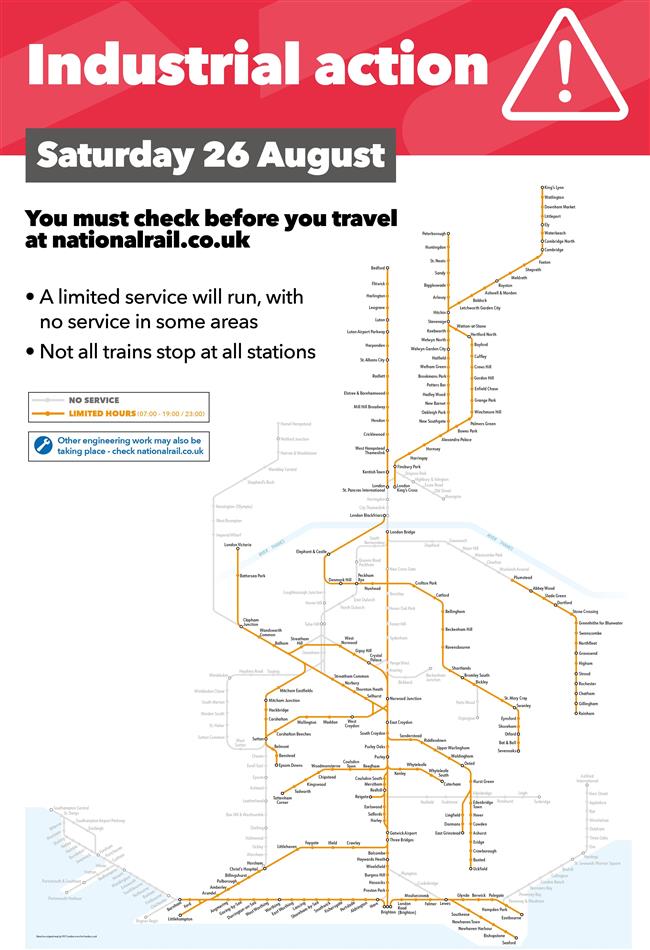 On Saturday 26 August, train services will be limited across the network, with a later start, an early shut down and no service in some locations.
Customers are encouraged to plan all journeys carefully in advance at www.nationalrail.co.uk, and pay particular attention to the last train time for their entire trip – including any connections - to ensure return journeys can be completed before services finish. There will be no alternative transport available after the last trains have departed.
On these dates, customers should expect longer waiting times and busier trains, and queuing systems may be in place at stations, especially near to major events, to help manage crowds.
Key service information for Saturday 26 August
As per previous RMT strike days, there will be a limited service across the GTR network, with the vast majority of services starting later and finishing much earlier than normal. This includes Great Northern services from London Kings Cross to Cambridge which will have an earlier end time than seen on previous RMT strike days. Southern West Coastway services will also have an early shut down.
There will be no cross-London Thameslink service.
Similar to previous experiences of an RMT strike, there will also likely be impacts on the day after each strike, with no services until approximately 07:00 on Sunday 27 August and Sunday 3 September.
Industrial action affecting services to/from Brighton and Falmer
Brighton & Hove Albion vs West Ham United match
The match has a 17:30 kick-off at the Amex at Falmer. GTR are doing everything they can to strengthen their service plans and provide additional coverage where they can, based on the contingency staff available.
While most services across the GTR network will finish at around 19:00, they are planning to run extended operating hours on the following routes:
The last northbound Brighton to London services are expected to be the 20:40, 21:09 and 21:39 departures from Brighton.
 
They will serve the East Coastway, between Brighton/Falmer and Seaford/Eastbourne until approximately 22:00.
However, services on the West Coastway towards Littlehampton will be subject to an earlier finish, in line with the rest of the network, due to station staff availability. This means that the last trains of the day will have left before the end of the game.
Journey planners have now been updated to show the additional services above.
Despite the additional services on the Brighton Main Line, capacity will be extremely limited and all three London-bound trains are expected to depart full and standing. As a result, GTR have been working closely with the two football clubs to encourage fans to make use of coach services and the park and ride facilities where possible. This has included Seagull Travel adding additional services.
The important guidance for fans, both home and away is to:
 
Make alternative arrangements where available – e.g. travelling using coach services or arranging to stay overnight in the Brighton area.
 
Leave the stadium promptly as soon as the match finishes. This is particularly relevant for West Ham fans, who'll likely be travelling longer distances by rail. With the limited capacity available on Brighton to London services, fans cannot plan on boarding the last train and queuing systems will be in place.
Whilst GTR have made every effort to support this important event in the Brighton area, they want to remind their customers and stakeholders that there will be national strike action all day on Saturday 26 August and, therefore, there is always a chance of further disruption.
GTR are expecting similar arrangements to be in place for Saturday 2 September, with the ambition to also introduce a later service along the West Coastway and will share further details in due course.