Update on GTR rail services during industrial action in early September
ASLEF have announced a strike on Friday 1 September. The RMT have announced strike action for Saturday 2 September. ASLEF have also announced a ban on overtime working on Saturday 2 September.
The different action taking place means the impacts on the train service will differ on each affected date, as outlined below.
Friday 1 September
ASLEF strike action is taking place. There will be no trains across the vast majority of the GTR network and no alternative transport is available.
A very limited shuttle service will run between London Victoria and Gatwick Airport only. These trains will be extremely busy and will not stop at any other station. There will be queuing systems in operation to manage boarding. Customers are strongly advised not to travel to or from Gatwick by train if they have an alternative method of transport available, and to leave plenty of extra time for their journey if using the train is absolutely essential.
Saturday 2 September
RMT strike action is taking place and there is a ban on overtime working by ASLEF. The service level will be broadly similar to what operated last Saturday 26 August, with some minor alterations.
Train services will be limited across the network, with a later start, an early shut down and no service in some locations. There will be no cross-London Thameslink service.
The map below outlines the services that will be operating: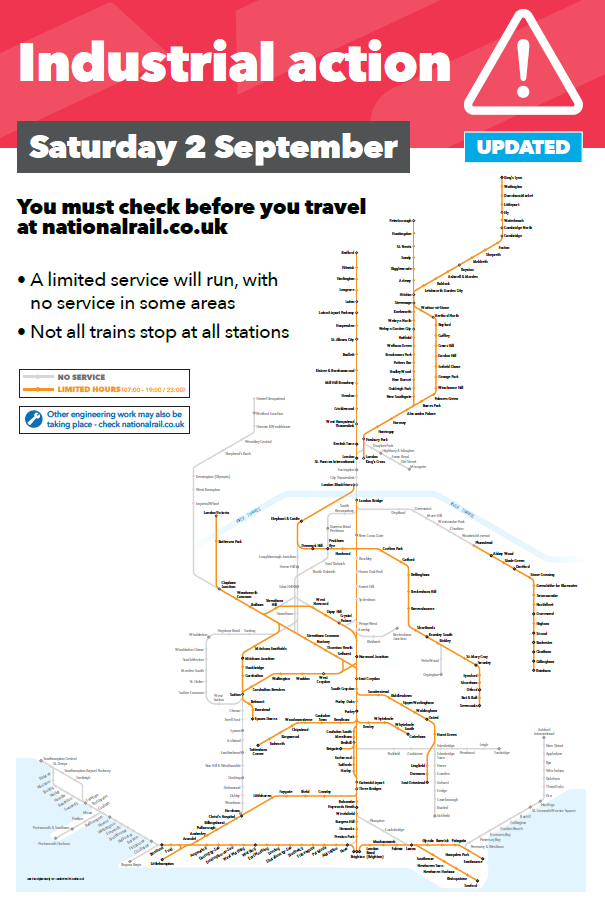 Customers are encouraged to plan all journeys carefully in advance at www.nationalrail.co.uk, and pay particular attention to the last train times for their entire trip – including any connections - to ensure return journeys can be completed before services finish. There will be no alternative transport available after the last trains have departed.
Customers should expect longer waiting times and busier trains, and queuing systems may be in place at stations, especially near to major events, to help manage crowds.
Sunday 3 September
Similar to previous experiences of an RMT strike, there will also likely be impacts on the day after the strike, with no services until approximately 07:00.
Times for early morning journeys on Sunday morning will appear in journey planners from Saturday 2 September.