There are three periods of industrial action confirmed to be taking place, with different impacts on different days:
A nationwide ban on overtime called by ASLEF between Monday 17 and Saturday 22 July
 
A nationwide RMT strike for Thursday 20, Saturday 22 and Saturday 29 July
 
Separate RMT and ASLEF strike action between Sunday 23 July to Friday 28 July by London Underground (LU) staff, which may affect some GTR services.
Given the overlapping sets of industrial action, the impacts on train services will vary on different days. Customers are therefore advised to check every journey, every day, throughout this period.
The table below shows dates affected by industrial action, a high-level overview of the impacts on services and the expected update for journey planners: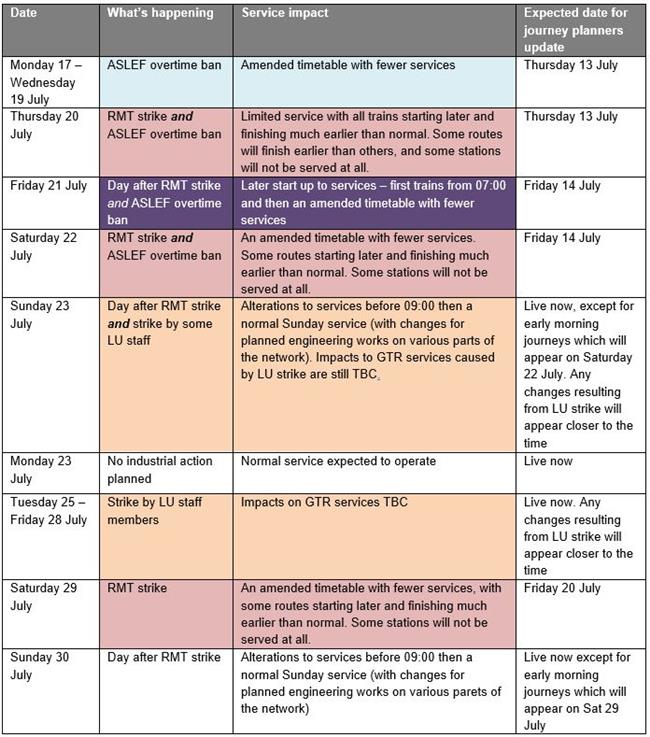 Services on days impacted by the ASLEF overtime ban
As during past periods of overtime bans by ASLEF, GTR's approach between Monday 17 and Wednesday 19 July and on Friday 21 July is to operate an amended timetable to provide greater certainty to customers about train times and frequencies, with the aim of avoiding last minute cancellations and short-notice disruption due to the overtime ban.
This is needed because the usual service has some overtime built in - called rest day working.
As the timetable is connected, it means that one driver's shift may connect other shifts together. Just one uncovered shift can have a disproportionate impact on our service, with short notice cancellations.
The amended timetable mitigates for this risk by not relying on rest day working, and will, for the Govia Thameslink Railway network as a whole, provide approximately 75% of a normal weekday's service.
This will vary by individual route, but it has been designed using GTR's weekday service as a base to try and cover as many typical journeys - such as school travel - as possible.
Services on dates impacted by RMT strike dates
Similar to previous RMT strike days, services will be limited with fewer trains. Services will start later and finish earlier – in some cases at different times on different strike days. Some places will see no service at all.
It is important that all customers plan their entire journeys and in particular, where services are running, they check the times of the first and last services carefully as there will be no alternative transport provided outside of these times.
Services on dates affected by LU strikes
While GTR do not yet know the impact this industrial action may have on their services, experience from previous strike action by LU staff suggests they may not be able to serve certain routes or call at stations which are managed by London Underground. Any changes to their services will be confirmed closer to the time.